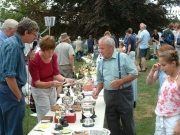 Councillors are listed below, with their telephone numbers and email addresses.
Each councillor has responsibility for a particular area of business and for the speediest response you should contact the relevant member, although you may of course contact any councillor or the clerk on any matter.
Mark Corney (Chairman) Planning, Rights of Way
Rock Cottage, Bishop Street, Faulkland, Radstock BA3 5XA


01373 834820,

mark.redpig@btinternet.com
Vince Curtis Rights of Way, Waste and recycling
Tuppence Cottage, Bishop Street, Faulkland, Radstock BA3


01373 834685,

vincentjohncurtis@gmail.com
Francis Green Faulkland Green and Pond
Horsepond Farm, Faulkland, Radstock BA3 5WA


01373 834263,

greenfgreen@gmail.com
Tony Hucker (Vice Chairman) Highways, Finance, Hemington issues, Playing field
Meadowside, High Street, Faulkland, Radstock, BA3 5UX


01373 834637,

tonyhucker@outlook.com
Matthew Francis Parish issues
Faulkland Farm, Grove Lane, Faulkland, BA3 5UU


07970058481,

WYC936M@gmail.com
The Parish Council currently has one vacancy following the resignation of Fiona Hayward. Notice of Vacancy to follow.
To view the registers of Councillors Interests, please see link below : https://www.mendip.gov.uk/article/6857/Hemington-Parish-Council
Clerk to the council:
Jenny Howell
Hemington, Hardington & Foxcote Parish Council


07368 181262


clerk@hemington-pc.org.uk