IMPORTANT PARISH COUNCIL UPDATE
The next Parish Council Meeting is an Ordinary Meeting of the Parish Councilwhich take place at Faulkland Village Hall at 7.30pm on Wednesday 9th February 2022.  Council have decided to dispense of the January meeting due to increased COVID infection rates.   Residents are welcome to join us for this meeting and there is a public participation session at the start of each meeting where residents have the opportunity to speak to the council and raise any issues of concern.
CLERK CONTACT
The Clerk's email has changed please use clerk.hemingtonpc@gmail.com as the previous address is not being used
TREE PLANTING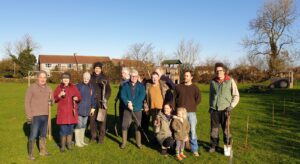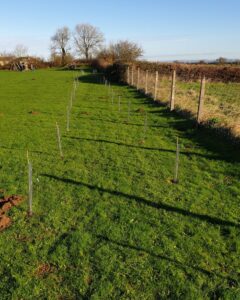 On Sunday 28th November members of the PC were joined by nearly 20 members of our community to plant 100 saplings provided by the Woodland Trust. All are native hardwood species and include Oak, Wild Cherry and Rowan. The trees have been planted along the southern edge of Faulkland playing field. A big thank you to all who helped.
MOBILE LIBRARY
Do you know someone who loves reading but cannot access library services?  There is a FREE mobile library service which provides all types of books, large print and audio books for more information contact 07814 079 831 www.somersetlibraries.co.uk
Available on the Somerset County Council website website – just scroll down to 'Covid-19 dashboard'. These are updated daily.
Local Coronavirus support
The local farm shop, Farleigh Road Farm, Norton St Philip has started doing deliveries of essentials. Contact – email: hello@farleighroadfarmshop.co.uk telephone: 01225 720006
There is also a new Facebook Page which has been set up to help residents during this time of need: Faulkland Covid-19 Mutual Aid or https://www.facebook.com/groups/225658978580514/
About the parish
Hemington, Hardington and Foxcote Parish lies at very north-eastern edge of Somerset. It is a rural parish containing 260 homes, many farms and several small office businesses. There are two pubs and a thriving primary school. There are approximately 650 parishioners, many of whom have a strong sense of cooperation that is demonstrated by voluntary community projects and collective events such as the Hemington Open Weekend.
Historically, employment was in farming and coal mining. The last mine in the area closed in 1973. In common with other rural parishes the number employed on the land has reduced considerably and some farmers have diversified. Over half the people now work outside the parish, many commuting to Bath, Bristol, Frome or Trowbridge. A quarter of parishioners are retired. There are also many young families.