PARISH COUNCIL MEETING INFORMATION
The next Parish Council Meeting is an Full Meeting of the Parish Council which take place at Faulkland Village Hall at 7.30pm on Wednesday 21st September 2022.  Residents are also welcome to join us  where there is a public participation session at the start of each meeting and any residents have the opportunity to speak to the council and raise any issues of concern.
IT's BACK !!!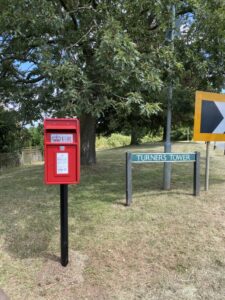 we are pleased to report that the post box at Turners Tower is back and operational.  In a slightly different location than its predecessor but very noticeable….
CALLING ALL FARMERS!!! 
and even if your not a farmer and want to know more on climate change and how farming can help, Mendip District Council is working in partnership with an independent farmer-led enterprise, to support Somerset landowners to tackle climate change.
The Farm Carbon Toolkit will deliver a series of free agricultural webinars throughout the summer on how to measure, understand and act on greenhouse gas emissions.
ARE YOU STRUGGLING WITH PAYING BILLS?
The Household Support Fund is designed to provide short-term urgent financial help to Somerset residents who are struggling to afford household essentials such as buying food, paying for energy and water bills and other essential household items such as beds and white goods.  Click the link for more information Somerset Household Support Fund
SOMERSET TRAVEL
Do you have to travel across the county, possibly using public transport.  Why not try this useful website Think Travel : Homepage it will get you where you need to go whether by bike, bus or community transport.
PLAY PARK
You may be noticing that we are removing the equipment from the play area, sadly the equipment has become a safety hazard so there is no option but to remove and replace.  We are interested in what you want to see there… swings, slides, hang out space, let us know by contacting clerk.hemingtonpc.gmail.com and be part of forging the new play generation
ANNUAL GOVERNANCE STATEMENT AND ACCOUNTABILITY RETURN 
Each year the Parish Council's Accounts are internally audited. As part of that process the Parish Council publish an Annual Governance and Accounting Statement (AGAR) and submit it to the external auditor as an exempt authority. The AGAR was approved at the meeting on 8th June 2022
The financial statement, explanation of variances for the previous year 2021/22 and the bank reconciliation at end of March 2022 are included on our Parish Council "Finance and Audit" pages.
Please note that each year there is a period when you have the right to inspect the previous year's accounts. This year the right to inspect the accounts for 2021/22 will open on Monday, 13 June 2022 and close on Friday, 22 July 2022. The notice of this right is also included on our finance pages.
PROPOSED LAVENDER CLOSE DEVELOPMENT
Notes of the meeting with Cotswold Homes are available to view below.  As a general update the developer is awaiting the results of various surveys before considering changes to the "desktop plan".  It is therefore imperative that if you have comments both Cotswold Homes and the Parish Council are eager to hear from you ahead of any re-design and planning application being submitted.   Contact information for Cotswold Homes is: info@cotswoldhomes.co.uk and the clerk can be emailed at clerk.hemingtonpc@gmail.com
N O T E S public meeting 07.06.22
20MPH ZONE
At the last PCM we discussed the viability, pro's and con's of a 20mph through the village based on data from National and Somerset Highways.  Herewith the necessary links so that you can research the subject and be well informed on considerations and implications
Setting local speed limits (publishing.service.gov.uk) and Speed limits (somerset.gov.uk)
LITTER PICKING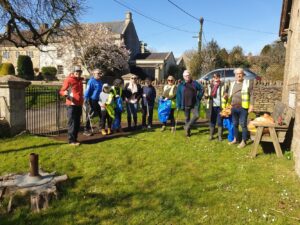 The Faulkland Wombles collected a whopping 17 bags of rubbish. Special thanks to members of the community who came along to give their support.
TREE PLANTING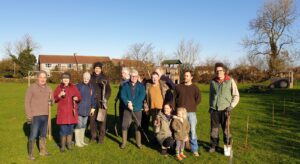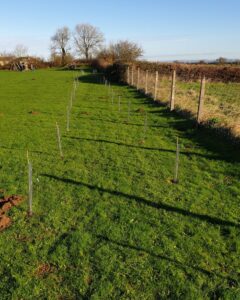 On Sunday 28th November members of the PC were joined by nearly 20 members of our community to plant 100 saplings provided by the Woodland Trust. All are native hardwood species and include Oak, Wild Cherry and Rowan. The trees have been planted along the southern edge of Faulkland playing field. A big thank you to all who helped.
MOBILE LIBRARY
Do you know someone who loves reading but cannot access library services?  There is a FREE mobile library service which provides all types of books, large print and audio books for more information contact 07814 079 831 www.somersetlibraries.co.uk
About the parish
Hemington, Hardington and Foxcote Paris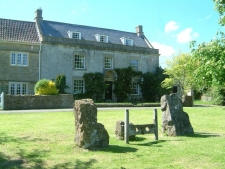 h lies at very north-eastern edge of Somerset. It is a rural parish containing 260 homes, many farms and several small office businesses. There are two pubs and a thriving primary school. There are approximately 650 parishioners, many of whom have a strong sense of cooperation that is demonstrated by voluntary community projects and collective events such as the Hemington Open Weekend.
Historically, employment was in farming and coal mining. The last mine in the area closed in 1973. In common with other rural parishes the number employed on the land has reduced considerably and some farmers have diversified. Over half the people now work outside the parish, many commuting to Bath, Bristol, Frome or Trowbridge. A quarter of parishioners are retired. There are also many young families.